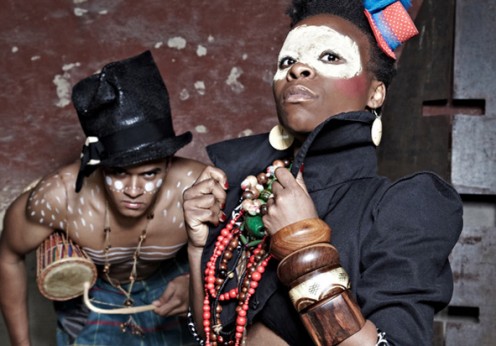 26.09. | 23:00
GATO PRETO
(Ghana/Germany, Mozambique/Portugal)
Gato Preto ("Black Cat" in Portuguese) is a music project by rapper Gata Misteriosa (Mozambique/Portugal) and DJ/producer Lee Bass (Ghana/Germany). With both artist having roots in Africa, their raw yet complex bass is influenced by a broad palette of African musical styles.
This mysterious feline, is a creature of Europe, as well as Africa, and delights in combining elements of Kuduro, Moombahton, Breakbeat, and Bailefunk. This heavy-hitting mix is garnering the duo enthusiastic early support in the global bass world.
James Hurrel of London's Club Popozuda called their music "a raw, primal, dance floor-filling, joyous experience," and said the duo is "destined for big things. They will dominate festivals in 2013." His prophetic sounding words are only reasonable given Gato Preto's recent history. They've brought their irresistible live show to the Lovebox Festival in the UK, Oslo World Music Festival in Norway, Fusion Festival and Juicy Beats (both in Germany) in addition to dates across Europe.
In their recent spotlight on the rising duo, MTV Iggy said: "This is not Global Bass for blogs and message boards. These are hard, chunky beats for shaking physical dance floors. If you catch them, prepare to dance, but, above all, be prepared."
www.gato-preto.net | http://soundcloud.com/gato-preto

presented by The Empress Club
[ai1ec post_id="7″]